Tahitian Noni Juice UK - NEW FORMULA
The Noni Juice that everyone is talking about (and it does NOT have to be in a glass bottle!)
Certified Noni Organic Pure (90%) Juice Tahitian Juice with Organic Raspberry and Organic Apple
We need to draw your attention to the fact that some unscrupulous companies are stating that Noni Juice has to be sold in glass bottles, otherwise it is inferior. Please be advised that this is not true. The glass bottle story is being used as a marketing ploy in order to make you pay more for Noni Juice, sometimes up to £35 per bottle. Before you buy a juice make sure it is not from a Network Marketing Company and make sure that it is not watered down. If you see a ridiculously priced Noni Juice that seems too good to be true, then it probably is just that! Pure Noni Juice has the consistency of thick syrup.
The Organic Noni Juice from Perfect Shape is 90% Pure Noni with 3% Organic Raspberry Puree, 6.6% Organic Apple Concentrate and 0.2% Natural Raspberry Flavour.
What Is Noni ?
Otherwise known as Morinda Citrifolia, Noni is a remarkable life sustaining plant that grows in various parts of the world including French Polynesia (the best known of these Islands being Tahiti), Hawaii and South East Asia.
The Noni in Perfect Shape's Noni Juice originates from Tahiti, where the tropical climate and mineral rich volcanic soil provide ideal growing conditions for this precious fruit. Noni is an evergreen shrub or bush that can grow to a height of between fifteen to twenty feet. Noni fruit looks like a green grenade which is covered with reddish brown seed pits that give it a lumpy texture. The fruit starts green, turns yellow, ripens to whiteness & then falls from the tree. The tree bears fruits all year round. Once one fruit is picked, a new one will take its place after only three months!
The Noni fruit, in its raw form, smells foul & tastes just as bad! Many people find that Pure Noni Juice without any flavouring added is totally unpalatable. Considering Perfect Shape's Noni Juice has such a small amount of natural organic raspberry flavour added, it tastes amazingly good.
The earliest reference to Noni being used as a medicine date back several thousand years to India's Sanskrit writings when it was used in Ayurvedic medicine. Noni is still used in the native medicinal systems of the islands of the South & Central Pacific (Tahiti, Samoa, Tonga & Hawaii) and also in Southeast Asia (Malaysia & the Philippines).
Different parts of the Noni plant that are used include the bark, leaves, flowers, fruit & seeds. Noni was, and still is, prescribed by the native Polynesian healers to treat a range of medical conditions including pain, inflammation, burns, skin problems, intestinal worms, nausea, food poisoning, fevers, bowel problems, menstrual problems, insect and animal bites.
World renowned Noni expert, Dr. Neil Solomon, describes Noni as a non-addictive natural product that is safe to take with medications and other food supplements.
Nutrients in Noni
Noni benefits so many people as it contains so many naturally occurring minerals, enzymes, anti-oxidants, vitamins, phytonutrients and bioflavonoids.
In fact, over 150 nutraceuticals have been found in the Noni fruit. Some of those identified include anthraquinones, beta-carotene, calcium, linoleic acid, magnesium, pectin, potassium, proline, protein, proxeronine, proxeroninease, scopoletin, beta-sitosterols, sterols, phenylalanine & tyrosine, ursolic acid, all the B vitamins & antioxidants like vitamin C, proanthocyanadins & anthocyanadins.
How does Noni work?
Our bodies work by biochemical reactions.
Examples include growing hair, digesting food, healing injuries, fighting infections, walking, thinking and feeling. There are certain processes in our body that are primary & supportive of the entire body. Any change in these primary processes can cause dramatic changes throughout our whole body & other aspects of our life.
Two of the main primary processes include the processes of synthesis and of communication.
Synthesis includes all the things that our bodies make - for example - proteins, connective tissues, new cells, hormones and DNA.
Communication refers to the flow of chemically controlled information among the cells, for proper co-ordinated growth of the human body as a whole. Globular proteins are the workhorses for both synthesis (enzymes) & communication (cell wall receptors) processes.
Globular proteins are long strands of amino acids connected like beads on a string. Big & wobbly, they spend only a very short time in the precise shape that does most of their intended work. More about proteins... Enzymes catalyse every biochemical reaction in the body & the cell wall receptors are responsible for much of the communication that occurs biochemically in the body. To increase the effectiveness of an enzyme or receptor, our bodies produce a small molecule called xeronine that wedges itself between the strands of protein, making it more rigid & hence spending more time in its biochemically efficient configuration.
Dr. Ralph Heinicke, a research biochemist, pioneered the study of the alkaloid Xeronine.
Xeronine is produced in the body (large intestine) from the building blocks Proxeronine, Proxeroninase and Seratonin. Our bodies contain all of these blocks, but proxeronine may be in short supply. Under usual circumstances, the liver stores proxeronine, releasing it into the bloodstream every two hours.
Additional quantity of proxeronine required comes from the food that we eat. However soil depletion and environmental degradation have reduced the amount of xeronine building blocks in our food.
Also illnesses, aging, stresses and highly active lifestyles have placed an increased demand on the proteins in our body.
To increase the supply of xeronine in our body, more proxeronine will need to be supplied through our diet.
Noni is found to contain, in abundant quantity, the building blocks for xeronine, namely proxeronine and the enzymes needed to convert proxeronine into xeronine, known as proxeronase.
The Noni plant has brought hope and helpful benefits to people for the past 2,000 years.
It is not completely understood how Noni juice works in the human body, but several scientific studies, as well as anecdotal evidence from Noni testimonials, say it works.
In the past 50 years, scientists and researchers around the world have begun to better understand how the compounds found in Noni fruit work.
The majority of the published research has come from researchers at the University of Hawaii School of Medicine, as well as other laboratories in France and Japan. World reknowned Noni expert, Dr. Neil Solomon, collected data from over 200 health professionals representing 20,000 people who drank Noni juice.
In his book, TAHITIAN NONI JUICE, he tabulated results from this pool of people who experienced objective and/or subjective improvements after drinking TAHITIAN NONI juice. Source: Solomon, Neil, M.D. Ph.D. TAHITIAN NONI® JUICE. UT: Direct Source Publishing, 2002
Noni Newspaper Article (with permission) Daily Record - 02/05/2005,
Exclusive By Lachlan Mackinnon
JUNGLE JUICE GIVES CHRIS A KICK
"A former professional CELTIC player has been cured of crippling injury by taking "jungle juice." Chris Morris has hailed the health drink - Tahitian noni juice - for his amazing recovery.
The 41-year-old had to retire prematurely eight years ago after a string of operations on his knees. If he hadn't, he would have caused irreparable damage. But now he is turning out every week for his local team in Newquay, Cornwall. "
Noni Testimonials
"I have just placed my 2nd order for your NONI juice, I am half-way through my 1st litre and it has made such a difference already to my health. I suffer with High Blood Pressure, Arthritis, Hiatus Hernia and Irritable Bowel Syndrome since the removal of my gallbladder."
"I have had to hurry to the loo immediately after eating or even drinking a cup of tea since my operation, up to 6 or 7 times per day, and refrained from having anything whenever I want to shop, or go to the cinema or theatre. Have not dared to stop for coffee during a shopping trip, and gone hungry and thirsty until I reached home. A workmate of my husband told him about Noni Juice and I decided to try it, I have been taking the recommended 30ml twice a day for only 9 days and can't believe the difference it has made. After just 2 days my stomach began to feel more comfortable with no cramps and I even missed going to the loo ALL day - I am visiting the loo normally just once a day now and feel so much better ! Best of all I can leave the house without worrying - I shall be making Noni Juice a permanent addition to my daily diet and thanks to Perfect Shape for this marvellous product !" Mrs J Richards - Plymouth
"I sell many bottles of Noni to my clients for various problems. Positive results have been achieved on Arthritis in the neck, abdominal pain/digestion, urinary tract, infections, cystitis, menopausal problems, hot flushes, and swollen ankles. The people experienced increased energy levels and a feeling of well-being from the offset, which was a sign that the toxins were being removed from the body. Regarding the hot flushes associated with the menopause, it has been invaluable. The hormone Serotonin acts as a neurotransmitter. It is a precursor to a hormone called Melatonin, which plays multiple life-giving roles in the body, including regulating biological rhythms. Surely this is better and safer than synthetic HRT, which can do more harm than good." Carol Walker
Note: Results may vary from person to person.
Suggested usage: Take up to 2 tablespoons (1 fl oz) before breakfast and 2 before dinner for the first month. Months 2 - 6 take 2 tablespoons before breakfast and 1 before dinner..Thereafter take a maintenance dose of 1 tablespoon twice per day. Halve the dosage if under 16 years of age.
Always shake the bottle before use and store in refrigerator once opened Serving size 2 Tablespoons (30ml) servings per container Approx 32 Buy Noni Juice and take advantage of our special offers TODAY!
Supplement Facts Serving Size: 2tbs (Approx. 30ml) Servings per Container: 32 Amount Per Serving Daily Value Noni (Morinda Citrifolia) (Fruit) 12,000mg * Total Fat 0 0% Cholesterol 0mcg 0% Sodium 0mg 0% Total Carbohydrate 4g 1% Dietary Fibre 1g 2% Sugars 1g * Protein 0g 17% Vitamin C 2 % *Daily Value Not Established Ingredients: Organic Certified Noni (Fruit) Juice (90%), Organic Certified Raspberry Flavor (0.2%), Citric Acid (0.2%). Not made from fermented,fumigated or irradiated Noni
Suitable for Vegetarians, Vegans & Coeliacs
Features
SKU
NONI
Features
Immunity: supports the immune system's natural ability to fight disease and infection.
Superior antioxidant that helps rid the body of harmful free radicals
Rich in Proxeroxine, Scopoletin, Polysaccharides
Supports proper digestion and helps you absorb more nutrients at the cellular level
Contains natural Vitamins, Minerals, Enzymes, Antioxidants, Phytonutrients & Bioflavonoids

Manufacturer

Dynamic Health

Ingredients

Organic Certified Noni (Fruit) Juice (90%), Organic Raspberry (3%), Organic Apple Concentrate (6.6%), Natural Raspberry Flavour (0.2%, Citric Acid (0.2%). Not made from fermented,fumigated or irradiated Noni

Ingredients

No

Instructions For Use

Take up to 2 tablespoons (1 fl oz) before breakfast and 2 before dinner for the first month. Months 2 - 6 take 2 tablespoons before breakfast and 1 before dinner..Thereafter take a maintenance dose of 1 tablespoon twice per day. Halve the dosage if under 16 years of age.

Nutritional Facts

Serving Size: 2tbs (Approx. 30ml) Servings per Container: 32 Amount Per Serving Daily Value Noni (Morinda Citrifolia) (Fruit) 12,000mg * Total Fat 0 0% Cholesterol 0mcg 0% Sodium 0mg 0% Total Carbohydrate 4g 1% Dietary Fibre 1g 2% Sugars 1g * Protein 0g
Customer Reviews
A friend recommended Noni for my Eczema. I've used it for a month and applied the juice directly on skin for affected areas and the results are amazing. It seems to get rid of the ecezma and also stops the itching. It does smell a bit on the skin but that doesn't bother me. I hope Noni will get rid of my eczema so far it looks promising. (Posted on 4/6/2013)
Since starting daily noni-juice I have found it to be an invaluable defence against colds and flus. I ran out of it last winter and ended up with swine flu which lasted for months.
Can't recommend it highly enough. (Posted on 1/30/2013)
I have been taking this product now for the past 5 to 6 years and can recommend it a 100% especially if you're are able to get the juice drained fresh from the Fruit itself you just feel you can keep on going - Fantastic (Posted on 10/9/2012)
Have taken Noni Juice for several years and since taking it i`ve hardly had any colds. I think its a good all rounder. The raspberry flavour makes it so easy to take.
The delivery service is excellent. (Posted on 6/15/2012)
I have noticed a marked improvement in fullnes and strength of my hair and nails since I started drinking noni juice. It does not taste half bad either. Money well spent. (Posted on 5/29/2012)
very good juice and service (Posted on 1/7/2012)
very good product (Posted on 11/16/2011)
Have been drinking this for 6 years now (horrible without the raspberry content) since operation and chemo for pancreatic cancer. Does it work ? Can't say of course but I'm still here. (Posted on 11/16/2011)
Soon after taking noni I developed osteoartheritis at 45 years of age so although it made my periods better I have stopped taking it as I thought iit may have contributed has anyone else complained about this batch? (Posted on 11/16/2011)
I have ordered this product numerous times from Perfect Shape. I take it as a supplement for general well-being. I am more than pleased with the ease with which it can be taken. In addition, I am very happy with the price and discounts offered and with customer service. The payment process is secure and the products safely and swiftly dispatched. I am a very satisfied customer. (Posted on 7/21/2011)
Usually always tired, gives a lift to energy level and texture of hair improves, which usually,for me, reflects my overall health. (Posted on 6/19/2011)
Fast and efficient service. It tastes much better with the raspberry flavour. (Posted on 6/15/2011)
I feel better with more energy taking it daily, I have always received excellent service and a speedy delivery from Perfect-Shape. (Posted on 6/2/2011)
Noni Juice is fantastic. Since starting it welve months ago my raised Blood Pressure has reduced to NORMAL for my age. Raspberry flavour makes it much easier to take. (Posted on 6/2/2011)
The product is top quality and very effective. It is delivered so quickly each time I order. I have recommended both the product and the website to many other people and have received a lot of positive feedback on it. I'm actually ordering more today for myself and a number of my friends! (Posted on 6/2/2011)
The rating is indicated by the continued purchase of the product. Now buying several bottles at a time for discount. Well worth it. (Posted on 6/1/2011)
Can't tell you enough how grateful I am you have managed to organize the delivery of my two orders on Wednesday 11 January. Thank you so much. 
My husband is due to go into hospital in London on 5 Feb for a bone marrow transplant... maybe something you had not considered your products were for .....  
Anyway, we have it on good authority that Noni is excellent for keeping him well during this ordeal and that the colloidal silver will help with any mouth mucositis he may get....
God bless and I will order again when more is needed. (Posted on 2/25/2011)
"I have just placed my 2nd order for your NONI juice, I am half-way through my 1st litre and it has made such a difference already to my health. I suffer with High Blood Pressure, Arthritis, Hiatus Hernia and Irritable Bowel Syndrome since the removal of my gallbladder." (Posted on 2/15/2011)
"I have had to hurry to the loo immediately after eating or even drinking a cup of tea since my operation, up to 6 or 7 times per day, and refrained from having anything whenever I want to shop, or go to the cinema or theatre. Have not dared to stop for coffee during a shopping trip, and gone hungry and thirsty until I reached home. A workmate of my husband told him about Noni Juice and I decided to try it, I have been taking the recommended 30ml twice a day for only 9 days and can't believe the difference it has made. After just 2 days my stomach began to feel more comfortable with no cramps and I even missed going to the loo ALL day - I am visiting the loo normally just once a day now and feel so much better ! Best of all I can leave the house without worrying - I shall be making Noni Juice a permanent addition to my daily diet and thanks to Perfect Shape for this marvellous product !" (Posted on 2/15/2011)
I sell many bottles of Noni to my clients for various problems. Positive results have been achieved on Arthritis in the neck, abdominal pain/digestion, urinary tract, infections, cystitis, menopausal problems, hot flushes, and swollen ankles. The people experienced increased energy levels and a feeling of well-being from the offset, which was a sign that the toxins were being removed from the body. Regarding the hot flushes associated with the menopause, it has been invaluable. The hormone Serotonin acts as a neurotransmitter. It is a precursor to a hormone called Melatonin, which plays multiple life-giving roles in the body, including regulating biological rhythms. Surely this is better and safer than synthetic HRT, which can do more harm than good. (Posted on 2/15/2011)
We Also Recommend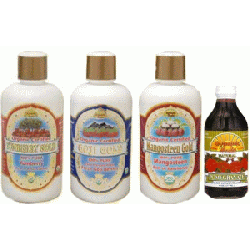 Regular Price: £82.80
Special Price £65.00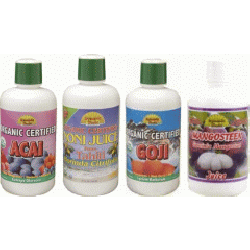 Regular Price: £79.75
Special Price £59.85