Since its discovery in the Himalayas centuries ago, the goji berry has been treasured by the Himalayan people and praised for its unmatched health-promoting powers. There is no other fruit on this earth that is packed with as much goodness as the goji berry. These berries flourish in the tranquil valleys that are naturally protected by the Majestic Himalayan Mountains.
The nutrient rich soil and the fresh mountain air guarantee nearly perfect conditions for the plant to blossom. Hence, goji berry juice makes a great health supplement for women, men and children in equal measure.
Rich in numerous nutrients, Goji Juice is abundant in naturally occurring minerals (Zinc, Calcium, Germanium, Selenium, Phosphorus, Copper and Iron) and many Amino Acids (Isoleucine & Methione). It also provides Antioxidant Vitamins and contains four unique Polysaccharides and Phytonutrient compounds, that work in the body as directors and carriers of the instructions that cells use to communicate with each other.
These Polysaccharides are "Master Molecules" that command and control many of the body's most important defence systems and encourage good overall health.
With an abundance of health benefits, Himalayan Goji Juice is a great source of energy, helps with insomnia, contains a multitude of anti-ageing properties, promotes longevity and also boosts the immune system.
This unique blend combines Goji Juice with Black Cherry Concentrate, Pear Juice Concentrate and Apple Juice Concentrate. Black Cherry, Pear and Apple Concentrate are also a rich source of antioxidants.
Studies have shown than the anthocyanins in black cherries (the compound which gives the cherries the colour) can significantly reduce the risk of colon cancer. Besides having cancer protecting effects, these compounds may also help lower the risk of getting a heart attack and stroke. Black cherry concentrate is also believed to minimise the symptoms of inflammatory diseases like arthritis and gout. Black Cherry Concentrate helps to reduce the uric acid levels in the body which is the main cause of gout pain.
This unique blend is an ideal everyday supplement and provides you with the benefits of not just Goji, but also Black Cherry, Pear and Apple Concentrates.
Features
SKU
GOJI
Features
Anti-Aging
Helps to relieve bone and joint pain
Maintains healthy kidneys, gallbladder and teeth
Helps maintain healthy cholesterol levels
Boosts energy levels - Promotes weight loss!

Manufacturer

Dynamic Health

Ingredients

(50%) goji juice from whole Lycium Barbarum reconstituted, triple filtered water, blackcherry juice concentrate, pear juice concentrate, apple juice concentrate, natural flavours, citric acid and potassium sorbate added to maintain freshness.

Ingredients

No

Instructions For Use

Take between 30ml (2 tablespoons) and 90ml (6 tablespoons) per day. Best taken on an empty stomach.

Nutritional Facts

Calories 20kcal, Calories from Fat 0, Goji (Lycium Barbarum Fruit) 5500mg, Total Fat 0mg, Cholesterol 0mg, Sodium 0mg,Total Carbohydrate 5g (Dietary Fibre <1g, Sugars 4g), Protein 0g, Potassium 35mg, Vitamin C 15mg
We Also Recommend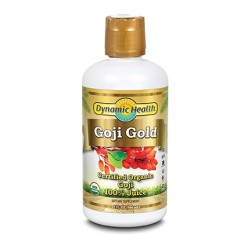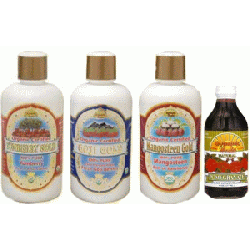 Regular Price: £82.80
Special Price £65.00