Organic Certified Acai Juice Blend
The Açai (pronounced ah-sigh-ee) Palm Trees flourish in the lush rainforests that are fed by the mighty Amazon River. The synergy of the nutrient rich soil and tropical climate guarantee nearly perfect conditions for these acai plants to thrive. The dark purple berries of the Açai plant (Euterpe Oleracea) contain up to 33 times the antioxidant content as red wine grapes. These amazing acai berries have traditionally been used to increase energy, stamina, vitality, and to promote overall healthy living. The amazing acai fruit is considered nature's perfect food.
Açai was recently featured on the Oprah Winfrey daytime television show as being the top super food for age-defying beauty.
In addition to it's beauty boosting properties, some other commonly reported benefits of Açai Juice include:
Promotes weight loss*
Improves mental clarity*
High antioxidant content*
Combats premature aging*
Helps increase energy levels*
Helps to bolster the immune system*
Dynamic Health's Laboratories'™ unique blend of juices creates a powerful antioxidant cocktail.
In addition to the benefits of Açai berries, this dynamic blend also contains Organic Goji Juice, Organic Pomegranate Juice, Organic Mangosteen Juice and Organic Blueberry Juice.
Some reported benefits of these super-food juices include:
Helps to lower blood pressure and cholesterol
Strengthen muscles and bones
Supports healthy kidney and urinary tract function
Helps to maintain a healthy heart
Improves energy levels and supports healthy immune system
This powerful blend of super-food juices will provide essential vitamines and minerals (B1, B2, B3, C, E, Calcium and Potassium), and important essential fatty acids (Omega-3, Omega-6 and Omega-9). These polyunsaturated essential fatty acids help lower LDL (harmful cholesterol) while maintaining HDL (beneficial cholesterol). Omega fatty acids are essential for healthy nervous system development and regeneration. They help rapidly repair and rejuvenate muscles and help the brain to run smoothly.
This unique blend contains not one, but 5 powerful super juices!
*These statements have not been evaluated by the Food and Drug Administration. This product is not intended to diagnose, treat, cure or prevent any disease.
Features
SKU
ACAO
Features
Boost Immunity and Energy Levels
Promotes weight loss
Promotes fertility - May increase sperm count!
Alleviate Cell Damage Caused by Free Radicals
More readily absorbed than tablets and powders

Manufacturer

Dynamic Health

Ingredients

No

Ingredients

No

Instructions For Use

30ml per day on an empty stomach. Note: Results may vary from person to person.

Nutritional Facts

No
We Also Recommend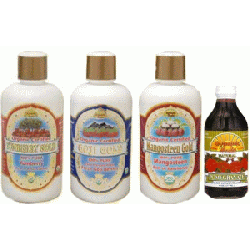 Regular Price: £82.80
Special Price £65.00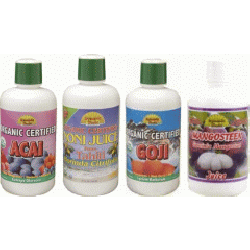 Regular Price: £79.75
Special Price £59.85