Organic Certified Acai Juice
Açai Facts: Acai juice contains upto 33 times the anti-oxidant content as red wine!
This 100% Pure Acai Juice from Perfect Shape is 100% Natural. If you are looking for the highest quality of Acai Juice, then look no further.
The Açai (pronounced ah-sigh-ee) Palm Trees flourish in the lush rainforests that are fed by the mighty Amazon River.
The synergy of the nutrient rich soil and tropical climate guarantee nearly perfect conditions for these acai plants to thrive.
The dark purple berries of the Açai plant (Euterpe Oleracea) contain up to 33 times the antioxidant content as red wine grapes.
These amazing acai berries have traditionally been used to increase energy, stamina, vitality, and to promote overall healthy living. The amazing acai fruit is considered nature's perfect food.
Açai was recently featured on the Oprah Winfrey daytime television show as being the top super food for age-defying beauty.
In addition to it's beauty boosting properties, some other commonly reported benefits of Açai Juice include:
Promotes weight loss*
Improves mental clarity*
High antioxidant content*
Combats premature aging*
Helps increase energy levels*
Helps to bolster the immune system*
Açai Beauty Facts: Acai was recently featured on the Oprah Winfrey daytime television show as being the top super food for age-defying beauty. It alleviates the cell damage caused by free radicals
Our ACAI juice is the highest quality Acai Berry Juice available now in Europe. This Acai Juice contains no preservatives, no colourings, nothing except the highest quality organic acai juice.
Just 100% Pure Acai Berry Juice , that's all!
If you are looking for Organic Acai Berry Juice, our Acai Berry Juice is certified organic by the USDA, an organisation in the USA that monitors organic quality.
What's more, to protect you, the consumer, we undergo a throrough organic audit each year by the UK Organic Food Federation to ensure that our facilities meet or exceed the regulations for production and storage of organic produce.
This covers the production process from the farmers in the field to the product arriving in your hands and ensures that no substitution with non organic juice or watering down of the juice happens before it reaches you.
Unlike other companies who may import juice into Europe in bulk and decant into their own bottles, with the risk of bacteria introduced or watering the product down, our juices are presented to you in the same condition as they leave the GMP (Good Manufacturing Practice) facilities in the USA.
The organic audit process also ensures that we only use approved organic pest control products in the production and also in the storage location of our ISO approved warehouse in Kent, UK.
Guaranteed 100% Pure Acai Juice.
*These statements have not been evaluated by the Food and Drug Administration. This product is not intended to diagnose, treat, cure or prevent any disease.
Features
SKU
ACAG
Features
Promotes Weight Loss*
Boost Energy Levels*
Strengthen the Immune System*
Helps alleviate cell damage caused by Free Radicals*
Enriched with Antocyanis A natural source of Ellagic Acid and Fibre Improves the General Metabolism*

Manufacturer

Dynamic Health

Ingredients

No

Ingredients

No

Instructions For Use

No

Nutritional Facts

No
Customer Reviews
Acai Gold Review by

Alan

Excellent Juice I drink it all the time every morning once a day,

I dont understand why the shops in aberdeen do not sell it (Posted on 6/4/2011)
We Also Recommend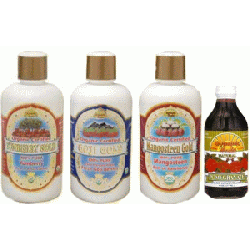 Regular Price: £82.80
Special Price £65.00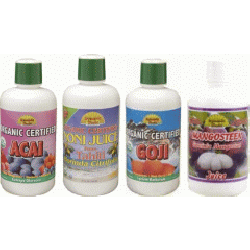 Regular Price: £79.75
Special Price £59.85