ACAI Blended Juice - The antioxidant super power. Designed for the busy life
The acai berry is renowned for its health properties. Harvested from high in the Acai palm trees in the lush Brazilian tropical rainforest, it is recognised for its high levels of the cholesterol-fighting fatty acids, Omega 6 and Omega 9, and its strong concentration, up to 33 times more than that found in red wine grapes of anthoycyanin, an extremely powerful anti-oxidant.
The acai (pronounce ah-sigh-ee) fruit is indigenous to the Amazonian basin in Brazil. It grows high up in the Acai palm trees and has been used for centuries by the local inhabitants as a staple part of their diet.
Acai juice is now central to Brazilian beach culture and can be found in numerous juice bars fringing Ipanema beach.
Tropical Acai Blended Juice contains several other health-promoting fruit juices in addition to Acai fruit, namely :
Pomegranate Juice
The health benefits associated with Pomegranate have been well documented in recent months. The fruit is packed with powerful antioxidant, polyphenols. These phytochemicals protect plants from disease and UV light and can play a similar role within the body, acting as potent free radical scavengers.
Free radicals if left uncontrolled can speed up the oxidation of LDL ("bad" cholesterol) which leads to the build up of plaque in the arteries. This excess of plaque, known as atherosclerosis, is a leading factor in heart attacks and strokes.
Pomegranate Juice has also been traditionally used to help relieve the symptoms of the menopause.
Organic Raspberry Juice
Raspberry includes some compounds called phenolic which are known to be powerful antioxidants. Therefore they could help to neutralise free radicals in the body that are often blamed for initiating and speeding up the disease processes involved in heart disease and cancer. The fruit is recognised for its diuretic, cleansing and laxative properties. Traditionally taken for indigestion and rheumatism, the berries are rich in vitamins and highly nutritious.
Raspberry Juice also has anti-inflammatory and anti-bacterial properties and is traditionally used to help ease indigestion and rheumatism.
Blueberry Juice
Though blueberries are not a cure-all, the natural substances they contain are now thought to have great health benefits, including naturally occurring fibre, antioxidants and vitamins. Blueberries can also help ease urinary tract infections and have anti-inflammatory properties.
Features
SKU
ACAI
Features
No
No
No
No
No

Manufacturer

Dynamic Health

Ingredients

40% acai juice, 19.6% blueberry juice concentrate, 20% raspberry juice concentrate, 20% pomegranate juice concentrate, citric acid, natural flavouring.

Ingredients

No

Instructions For Use

Recommended intake 30ml per day, preferably in the morning on an empty stomach.

Nutritional Facts

30ml. Serving. Approx 32 servings per container.
Customer Reviews
Buy Perfect Shape's pure açai berry juice for a few pounds more Review by

Jan V. H. Luthman

This is a great tasting drink, but it is not pure açai berry juice: it is a blend of açai berries, blackcurrants, pomegranate, blueberries and raspberries. If you're after açai berries, rather than a blend of berry juices, then buy Perfect Shape's pure açai berry juice for a few pounds more.
Pulped açai berries are probably as good for your health as most other pulped berries or fresh fruit, but the glowing skin and extra energy that açai berries can promote are due to a naturally occurring alkaloid stimulant called theobromine, which is also found in cola nuts and cacao plants (there are very low levels in chocolate).
Theobromine (nothing to do with bromine - the name is actually derived from two ancient Greek words meaning `food of the gods') acts by stimulating the heart and dilating blood vessels - hence the `glowing complexion' and enhanced energy levels. Theobromine can also act as a mild appetite depressant and diuretic - hence its popularity amongst those trying to lose weight.
There don't appear to be any significant negative side effects, although my wife found it kept her awake at night, and one can feel a bit tired and grumpy when the effects fade after 8 or 9 hours.
Pulped fresh fruit and berry drinks are available for very much less in any supermarket, and whether you think it worth spending the extra for açai berry juice probably depends on how much you value the day-long lift to your spirits and energy that it provides. Cheaper than a cup of Starbucks coffee!
One last point: Perfect Shape's bottled pure açai berry juice (not this blend) is much, much less expensive than capsules - 946 ml is equivalent to around 1,900 500mg capsules. (Posted on 2/15/2011)
We Also Recommend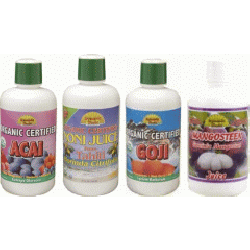 Regular Price: £79.75
Special Price £59.85