Kosher Liquid Chlorophyll & Aloe Vera Juice (100% Pure) Dynamic Health Laboratories'™
Chlorophyll, often mis-spelt as chlorophyl, is the green pigment of plants and is similar in structure to human haemoglobin. Rich in antioxidants, Chlorophyll helps to improve kidney health, increases oxygen levels in the blood and helps maintain a healthy and strong digestive system. Chlorophyll also deodorises the intestinal system and can therefore help to eliminate bad breath!
Pure aloe vera benefits the digestive system when taken internally. It also provides important polysaccharides and many of the essential nutrients your body needs to function properly. When applied topically, Aloe Vera can help to heal and soothe burns, cuts, and minor blemishes.
Some of the traditional benefits of Aloe Vera Juice include:
Boosting the immune system
Helping to soothe the stomach (aloe cleanse the digestive system)
Strengthening the gastrointestinal system
Fighting bacteria
Provides anti-inflammatory benefits and many vital nutrients
Dynamic Health Laboratories'™ Chlorophyll with Aloe Vera Juice has a delicious Spearmint flavor, which also helps to aid digestion and soothe digestive difficulties.
Enjoy sipping it alone, or mixed with your favorite beverage.
Features
SKU
CHALOE
Features
Boost Immunity and Energy Levels
Blood Booster
Improves General Metabolism
Aids Digestion
Easier to Swallow than Hard Tablets and Powders. Readily Absorbable

Manufacturer

Dynamic Health

Ingredients

No

Ingredients

No

Instructions For Use

Serving Size 1 tbps (15 mls) Serving per container 32

Nutritional Facts

Total Fat 0g, Saturated Fat 0g, Cholesterol 0g, Sodium (an Electrolyte)  55mg, Total Carbohydrate 1g, Dietary Fiber 0g, Sugar 0g, Protein 1g, Total Carbohydrate 2g
We Also Recommend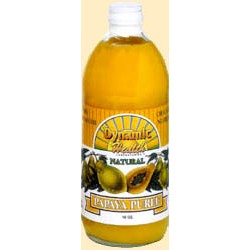 Regular Price: £12.95
Special Price £9.95